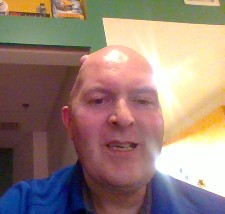 My name is Michael McNally, and I have had my brain injury since the fall of 2009.
I was on my way home from work, when I blacked out and I was in a car accident. The doctors figured out that I had a brain aneurysm which caused my accident.
I was at the Hamilton Hospital in a coma for between 6-9 months. There was a lot of blood in my brain, and I had 4-5 blood transfusions. The damage was mostly on the right side of my brain, and I had surgery.
I spent a total of 2 and a half years at the hospital. Now I live in at Thornton View Long-term Care in Oshawa.
When I first got my brain injury, I couldn't move the left side of my body. I also lost the ability to swallow whole foods and some of my speech. Doctors told me I would probably never walk again.
After I was told I wouldn't walk again, I did lots of physical therapy. One exercise that really helped improve my mobility was tossing a ball back and forth with my therapist.
Today I have a step counter and I use a walker. I can even walk for a short time without the walker. I participate in Brain Injury Society of Toronto's fundraising walks, and last time we raised $18,000.
My advice to other people with brain injury is to never give up. Not even once. It's hard: I still get migraines and have a speech impediment. I continue to do physical therapy. But the hard work is paying off. And my goal is to continue getting better so I can walk out of here and into my home to my wife and kids.
I would like to thank my wife Dawn and my children Taylor and Ryan, my mom and dad, my brothers Mark and Matthew, and all my friends abroad and here at Thornton View for their continued love and support.