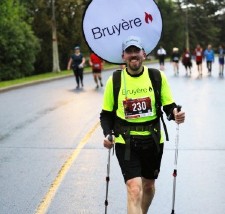 Naval commander Tim Kerr didn't know anything about brain injury or stroke before he suffered his own in 2012.
"It happened out of the blue while I was at sea," Tim says. At the time, Tim was a captain of a destroyer stationed off the west coast of America. "I was exercising on an elliptical: next thing I knew I was in a hospital."
What happened between the elliptical and waking up in the hospital was filled in for Tim by crew members and doctors. "The crew said they found me seizing on the floor: luckily we had a medical professional on board who followed stroke protocol. They evacuated me to another ship nearby with a physician, who then ordered my evacuation to a hospital in San Diego."
The first few days
"I remember waking up and feeling surprised, fearful, and confused," Tim remembers. "My initial concern was 'I have to get back to my ship'. I had a lot of questions."
It took some time for doctors to confirm why Tim had had a stroke – he was a healthy man in his 40's when it happened. But after several tests, including MRIs, they had their diagnosis. I had a hemorrhagic stroke in the right parietal [section of the brain] which affected the left side of my body," Tim explains. This left him with paralysis in the left side of his body and mild issues with his memory.
"I remember thinking 'I had a stroke. I'm disabled. Is this going to be my state? Am I going to recover?'" Tim recalls. "In early recovery, I was extremely emotional – I couldn't control them. [I felt] anger at the situation, uncertainty, fear, and sadness."
A lot of that uncertainty resolved into determination. "Family was a motivator: I was determined to recover as best as I could," Tim says. He had young kids, and he was determined to do as much with them as possible.
Going through rehabilitation
Tim's determination started in the hospital. Before he started rehabilitation, he tried to use his right side to manage his left-side deficit. "One example is that I would drag myself to the bathroom with the help of my wife or using other supports in the room with my right side trying to compensate for my left."
"It didn't really hit me until I arrived at the Élisabeth Bruyère rehab centre [in Ottawa] how disabled I was. I was in a wheelchair, and they showed me my room. Then they took me to the dining room with all the other stroke survivors. I was leaning because of my left-side deficit. One of the volunteers there tried to begin the process of feeding me."
The action really shocked Tim. "I thought "is this how I'm going to be for the rest of my life?"" It was difficult for him to come to terms with all the changes he had faced, and would continue to face as he recovered.
After a week of assessment, Tim's rehabilitation program began. It was a mix of physiotherapy, occupational therapy, and cognitive therapy. "In the first stage I worked on my core, exercises to rewire my brain to support my core and help me sit upright. We spent a month on this stage."
"In the second stage I did arm and leg exercises. It was a very robust physio program. In the third stage, once my left arm started to improve, I went to occupational therapy to work on fine motor skills."
Tim was motivated. "I had an end goal in mind the entire time: be mobile enough to play with my kids." But in his first 6 weeks, Tim says he didn't see a lot of improvement and was discouraged. While it helped to have that big end goal, Tim admits that focus on such a big goal made it difficult to see results. "Setting daily, weekly goals helped me see progress. It wasn't until I implemented those small goals that I started to see results," he says.
Tim spent a total of three and a half months at Élisabeth Bruyère and was able to walk out using a walker. He continued outpatient rehab and progressed to using a cane and then after a number of months was able to walk unaided. He attributes part of his success in rehabilitation to his age, his military background, and his past experiences.
"This was not my first time in rehabilitation," Tim says. "In 2009 (3 years before the stroke), I was in the United Kingdom (UK) doing training. I was in an armoured vehicle accident and my right femur went through my right hip. I joined a complex trauma group in the UK during my long period of rehabilitation. I walked in on crutches. Everyone else was a Royal Marine wounded in action – many were missing limbs. I did rehab alongside them, and they were an incredible group of people."
This experience showed Tim the importance of being determined and having support when in rehabilitation. It's what helped him after his stroke.
"I had so much support at Élisabeth Bruyère. I love the staff. I also recognize I had a rare level of support from the military, family and friends."
Along with his wife and kids, Tim had frequent visits from his parents. "They advocated for me, pushed for me," Tim says. "My dad motivated me, and he helped me. He would even give me baths – now that's something I never thought I would need him to do again."
Once Tim was discharged from Élisabeth Bruyère, he continued as an outpatient. "I'm very happy with my recovery. I'm kind of amazed at my recovery, looking back," Tim says. "I've recovered about 95% of my mobility. I use precaution and walking poles for long walks, and cleats/spikes in the winter. I stay healthy with safe exercise. And now I actually volunteer at Élisabeth Bruyère."
While Tim recognizes that not everyone will recover to the extent that he has, he does believe that support and motivation play an important role for everyone. "People lose a lot of motivation and miss opportunities for improvement because they don't have external support. Ideally everyone would have someone – an advocate, a case manager during rehabilitation who would provide that external help." As a volunteer, Tim tries to lend his personal experiences and determination to others, providing some of that motivation himself.
Returning to work
At the time of his stroke, Tim was a naval commander finishing his time at sea. During his initial recovery, he was placed on medical leave.
"The military had a robust mechanism for a plan to return to work. I worked with a military case manager," Tim explains. "I started a couple half days a week about 9 months after the stroke. My employers and I slowly added half days over several months. I was full-time 14 months after the stroke."
Tim still experiences fatigue and takes anti-seizure medications. After 3 years he received a medical release from the Canadian armed forces, and now works in public service in Veterans Affairs.
Every day is a starting point
When asked what he wanted others to take away from his story, Tim had a simple answer. "No matter what happens to you, you can always move forward," he says. "What's important is to do the work, set goals, try to find someone to accompany you on your journey. Always believe you can recover to some degree. I took that lesson into my stroke recovery."
"Every day is a starting point. You owe it to yourself to make your life as good as it can be."