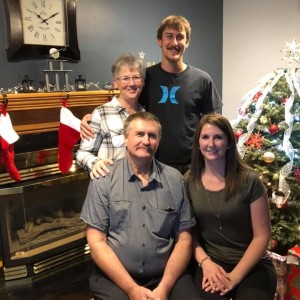 It's Tuesday, May 21, 2019. As I start to wake already my mind reminds me that this is the Tuesday after the long weekend and my desk has already so many things I need to do to get caught up. I also wake knowing that this is our 31st wedding anniversary and the day of our daughter Justine's first part of a two-part pharmacy licensing exam.
[Praying] "Lord, thank you for putting Blair in my life. Thank you for 31 years of ups and downs and mostly that we were able to take every challenge and every victory to you in prayer. I especially pray for Justine this morning and ask that You give her peace. Lord, please easily bring the answers to the exam questions to her mind. I also ask that you keep Jared safe at work today. In Jesus name I pray. Amen"  As my prayer ends I hear the roar of our son Jared's car arriving to town and off to work. I silently say good morning and wish him a good day.
As I get up and get dressed I move quietly around the condo. Blair was diagnosed with lung cancer six years ago and sleeps until 9:30 most mornings. He is currently stage IV but doing remarkably well. He has an amazingly positive attitude.
In my position as Member Relations officer at our local Co-op head office, this is the time of year when we're winding down from two major events, doing scholarship presentations, lots of donation requests for summer events and negotiating advertising with our new local radio station. It's always busy on my desk but I thrive on having several balls in the air all at once. So much still to do so feeling like I'd better eat lunch at my desk so I can leave at 5:00 for our anniversary supper. Deli salad from downstairs fits the bill.
At some point during the morning I wonder how Justine's exam has gone and send up another quick prayer.
1:39pm  text from Justine. "It's done. That's all I can say. Gonna go nap"
It really has been a long day. My eye's are starting to bother me. Like gold squares of light are in my field of vision.
5:19pm Just not feeling great so thought I'd text Justine to bring her dad to the Co-op so he could drive my car home. I text Justine "Can you come to get me around with dad on 5:30. I'm very to delay."
Justine, "Okay. Are you okay?"
Me, "Not sure"
I know that Blair and Justine are heading my way shortly, so I decide I'm going to contact the groups with the donation requests I've approved. The first one is a donation of gift cards, but I can't think of the words "gift cards" to write on the donation request form. Man, it's been a long day. I'll come back to this. (I looked at this particular file after many months and see I wrote five random letters where I would normally note what I had donated and the date). The next donation is a donation of beef. I decide it's easier to call the group, so I dial. Someone answers. I comment, "Hi, this is" and then I can't think of the next word. I feel like I'm in a big dark, empty room and I can't find anything—not a word, not a thought, not an idea, just total blankness. I hear the person on the other end say, "from the Co-op?"
"Uhm" I'm so embarrassed with my response. What a terrible representation of our Co-op.
"About our donation request?"
"Uhm"
"Will you donate the beef?"
"Uhm"
"Thanks!"
The whole time I was so embarrassed, wanting to hang up but thinking that would be even more rude than just responding with a mumble. I want to cry! I look up and Blair is just entering the admin office on his way to my office. I'm feeling very off balance and am already thinking that it will be hard to walk down the stairs to the main floor and out to the parking lot.
The ladies at the admin desks wish us a happy anniversary and tell us to have a good supper. I smile and nod, even offer a small wave as we leave. I know I need Blair's support to get me down the stairs. Justine is waiting outside in the car and they take me directly to the hospital. If I could speak, I would just ask them to take me home to sleep. I just don't feel well and am tired.
I'm so glad to be able to lay down on the ER bed at our local hospital. There is busy-ness around me and I.Vs going into both my arms. Having worked at our local hospital off and on for over 20 years I know most of the nursing staff. I see concern in their eyes. They asked me my name but I couldn't find it in my mind. I would get a quick glimpse of it but then it was gone. Then when I got a hold of it I couldn't make my mouth work. I couldn't speak my name. I concentrated with all the effort I could muster and then it exploded out of me. My name, "Julianne". That was exhausting! I just want to rest now. There is no thought in my head, no fear, no questions just a desire to rest in the quiet emptiness.
Our family doctor arrives and there is more commotion. They keep asking me my name. I hear someone say blood pressure is 215/90.
It seems that the ambulance has arrived, but I feel like I've just gotten here.
The normal 60-minute drive to Moose Jaw took only 40 minutes.
There is another swirl of activity as blood is drawn and I'm rushed for a CT scan.
The scan indicates it's not a brain hemorrhage, so I'm cleared to receive the ATP, clot-buster, treatment.
I must have napped on and off because all I remember is the nurses telling Blair and Justine that I'm to stay in bed for 48 hours as I am now a high bleed risk following the ATP.
The CT scan also showed that I have a greater than 70% occlusion of my left carotid artery. The attending physician explains to us that I have been referred to a surgeon in Regina for a left Endarterectomy where they will open my neck up, open up the left carotid artery, clean it out and then put a patch on the carotid before closing me up again.
I received the surgery and was sent home a few days later.
It's now 19 months since my stroke and I've learned so much.
A few resources that I've found very helpful are the "Let's Talk About Stroke – An information guide for survivors and their families" published by Heart & Stroke Foundation and "Returning to work following an acquired brain injury" handbook which I found online from Brain Injury Canada.
As a retired Registered Massage Therapist I had access to many modalities of treatments. Some of which I was very aware of, and some new treatments offered to me by fellow therapists. Of the therapies I received; reiki, sound therapy, massage, yoga, reflexology, etc.; the most valuable treatment that helped relieve my anxiety was emotional reflexology from a therapist in Regina. I'd highly recommend it.
Speaking of anxiety, one of the greatest tips from my occupational therapist was to find something such as putting together picture puzzles or take up some stitching or other handwork as my eyes allowed it. Doing this keeps your mind in the present. Focusing on your project means you spend less time worrying about the future. It works!!
One of my greatest frustrations is my inability to read for more than about 20 minutes. I'm an avid reader. I've always had an affinity for learning. It probably took me about a year to discover how easy it was to access audio books. I use the Libby app. I also listen to podcasts that uplift and motivate me.
Being in large groups or in stores makes my head spin. I feel very off balance. Sometimes so severely I even feel that I'm going to lose bowel control. If there is something good that's come of Covid, for me, it is that I can guilt-free order my groceries online for home delivery. Another trick I've learned is that if I need only one thing in a store, I call ahead to see if it's available. If it is, I will ask if they have time to set it at the till and I give them my estimated time of arrival. If they don't have time, I ask for the aisle number where the item is located so I can quickly get in and out.
Stay home, stay safe was part of my internal dialogue even before Covid. Especially early after my stroke when my balance was an issue. I used to be very independent and travelled a fair bit both for pleasure and business. In the past 19 months I've driven alone only in our small town or a few times to our daughter's house 15 minutes away. I find that the ditches move quicker than the road and I experience extreme fatigue after just a short drive.
Financially, we've had to jump some hoops to receive some help. Insurance training is in my background so it should've been much easier but the mental process of applying was exhausting. Some tips I have here…if you have life insurance policies, check for waiver of premium coverage; if you have critical illness insurance coverage, you may have to prove cognitive impairment residuals lasting more than 30 days so check with your occupational therapist to give you a cognitive assessment; if you are applying for CPP disability, know that the processing takes a very long time (for me 7 months to approval and 8 months before payments started).
Don't give up! It's hard and frustrating. I know some days this will feel like a stretch but find something to be grateful for every day – some days you'll have to fake it until you make it but you will make it.
Accept help. This one is tough for most of us. Especially when we've enjoyed independence. Know that your caregiver(s) want the best for you. For me, I seem to have lost some of my filters and say things that I wouldn't have in the past. Sometimes this makes me embarrassed and sometimes it actually feels empowering. I've come to accept that "it is what it is". Try to remember that your closest caregiver is likely receiving the brunt of your comments and frustrations. Take the time to let them know you're sorry and how much you appreciate them.
Give yourself permission to evolve into the new you. Oh, how I pushed myself to try to get back to work. Back to the old me. I'd push through headaches and visual disturbances just to be able to stay on the computer and try to keep my mind from going to mush. By about five months after my stroke, I had to take my computer and put it in a box so I wouldn't use it. My therapists and councilors all told me to rest and let my brain heal. I actually felt like I was resting because I was no longer working my three-quarter time job, casual work at the hospital and my home business. I was determined to read because I was too stubborn to believe I could be happy without it. I see now how much I was taxing my brain out of fear that if I didn't keep it busy and stimulated, I'd lose it. I can tell you now, things will change, you will have changed and you will find peace and joy again.
Thank you, Brain Injury Canada, for giving me this opportunity to share parts of my journey. I sincerely hope it will be helpful to others.