The Brain Injury Canada Board of Directors is accountable for competent, conscientious and effective management of the organization, as well as responsible for governing the affairs of the organization within relevant legislation and regulations.
Xavier Linker – Co-Chair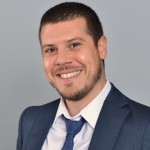 Xavier brings 15 years work experience in business development in the life sciences industry. Scientist by training, thanks to his graduation from the Toulouse National Institute of Applied Sciences (France) with a Master of Science in Biochemistry Engineering, Xavier then completed his training with a Specialized Master's degree in Biotechnology Management from the Toulouse Business School. Xavier then held leadership positions in the biotech industry, first in France, and since 2012, in Canada, before joining in 2019 McGill University, and more specifically the Healthy Brains, Healthy Lives initiative as an Associate Director, Business Development. Since then, Xavier got the opportunity to support projects in the field of brain injury and get familiar with its related issues. As a member of the Board of Directors, Xavier is glad to help Brain Injury Canada develop its network of partners in Canada.
Graham Todd – Co-Chair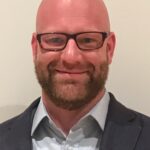 Although he says it is almost impossible to tell now, he has actually only been in Canada since 1999 when he immigrated from the UK. He has been lucky enough to travel the world with work in the hospitality industry before settling with his wife, Anita and 2 girls, Charlie and Mia, in Winnipeg.
His interest in Brain Injury within Canada is based on his own struggles with concussion through years of playing rugby as well as other pursuits. Navigating the healthcare system, getting advice and support was almost as difficult as the symptoms themselves. He wants to use the skills he has learned and utilized in his own businesses and professional career to assist those struggling with their Healthcare concerns as well as educate and advocate for those at risk. Through his company, he already coaches and mentors youth in sports, as well discuss with medical practitioners, parents, teachers and other coaches some of the areas under BIC scope of expertise and is excited to be closer to the source of information and resources.
He looks forward to contributing to a valuable team to help and assist all that need it.
Hafeeza Bassirullah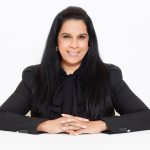 Dr. Hafeeza Bassirullah is an accomplished leader with proven experience in executing programs, transforming organizations, leading change, building dynamic teams, and defining and shaping strategies. She has extensive executive-level experience curating and implementing initiatives, policies, and programs to successfully enhance organizational effectiveness and business efficiencies, create long-term partnerships, and deliver on the mission of organizations.
Hafeeza's experience with brain injury is through her niece who was diagnosed with brain cancer at the age of six. It is clear from her niece's life journey, that more awareness and support are needed for children with brain injury, especially within the education system. Hafeeza hopes that through her involvement at Brain Injury Canada, she can meaningfully contribute to supporting the brain injury community through education, advocacy, awareness, and collaboration.
Hafeeza holds a Doctor of Education degree with a focus on Curriculum, Teaching, and Learning from the University of Toronto and a Master of Education degree with a focus on Adult Education from Brock University.
Tanya DiPenta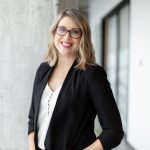 An accomplished and dedicated senior marketing professional, Tanya brings almost 20 years experience of leadership, strategic planning and execution of multi-faceted projects and marketing campaigns. She motivates and empowers team members while maintaining focus on the overall strategy and objective.
In February 2022, Tanya suffered a serious concussion (mild TBI), and since then has been navigating a long and difficult road to recovery. While it has been challenging, she's grateful that serving on the board of Brain Injury Canada will allow her to marry this lived experience with her marketing and communications knowledge, and ultimately improve the lives of others living with an acquired brain injury in Canada.
Tanya is a strong relationship-builder and respected leader. As a member of the senior leadership team at NATIONAL Public Relations in Halifax, Tanya maintains key client relationships, providing the highest level of strategic counsel and demonstrating deep commitment to building their businesses. She works with clients to develop their brand narrative and creative strategy, and then bring that story to life through integrated, national campaigns. But more than anything, Tanya believes in bringing the right people together, and empowering them to deliver outstanding results, every time.
Tamiko (Tami) Hynes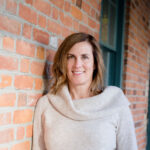 Tamiko (Tami) Hynes brings strong business acumen and extensive experience in strategic planning, organizational effectiveness and governance to the organizations she works with.  In her role as the Optometry Examining Board of Canada's (OEBC) chief executive officer, Tami, transformed the national certification body.  For almost nine years, she implemented the corporation's strategic growth plan, resulting in an evolution to world-class standardized assessments with profession-entry exams using innovative simulation models.
Resourceful, courageous and empowering are words used to describe Tami's leadership style throughout her 25-year career in health profession regulation, education and banking.  She is known for her ability to build consultative relationships, navigate ambiguity and problem solve.
During her career, she delivered progressive change and results through effective program and project management and research.  Tami holds a BCommand a MBA from Memorial University where she is a fellow of the School of Graduate Studies.  She is the co-author of strategic management case studies used in higher education such as Western University's Ivey School of Business.
As an active mother of a teen-age son, Tami works out regularly and enjoys a healthy lifestyle.   For good reason.  Brain injury is an event that strikes close to home.  Her family has a history of brain aneurysm, most recently taking the life of her beloved 43-year-old cousin.
Tami is passionate about acquired brain injury and committed to supporting BIC in taking its leadership role as the national education and advocacy voice in Canada.
Sonali Kohli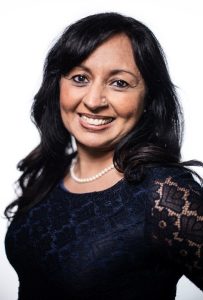 Sonali Kohli is the Executive Vice President, Digital Transformation and Chief Information Officer at Niagara Health. She has extensive experience in enhancing patient care by using technology as an enabler – both regionally and within hospitals.
Her professional career has been focused on making a meaningful difference in patient's lives as they move through their healthcare journey. The initiatives that made this possible were transformational in nature and have shown visible quality improvements by enabling system integration.
Sonali is a caregiver to her husband who has suffered two significant concussions with poor prognosis. She has seen him struggle to get access to funding for care, his daily activities, and sometimes judgements from society. She is passionate about creating more awareness on challenges posed by a significant brain injury even though it may not be visible and advocate for funding for much needed care. She also wants to create awareness and increase support for caregivers of individuals suffering with a brain injury.
John McGowan – Non-Voting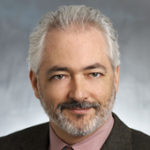 John is a lawyer by training, and practiced in the area of Employment Law at one of the large downtown Toronto firms. He had a stroke in 2012, and because of the residual effects he has been on long term disability since 2013. John is a director of the Regent Park School of Music, an organization established to provide access to group and individual music lessons for at-risk youth in various Toronto neighbourhoods. He previously served as Secretary to the RPSM Board, and is a member of the Governance Committee.
John is also Co-Chair of the Toronto Chapter of Stroke Recovery Canada (SRC), which exists under the auspices of March of Dimes Canada. SRC provides peer support for stroke victims and their families and caregivers through monthly meetings and outings. John has also received training to provide peer support for the Brain Injury Society of Toronto, and will shortly begin providing peer support for BIST.
In his spare time, John plays bass for The Tantrums, who provide their services free to charities at various functions across Toronto. Everybody in the band sings except John. Even his mother thinks that's a good thing.
Kai Olson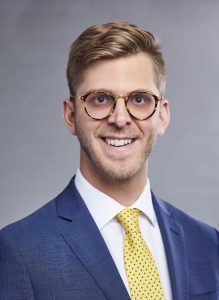 Kai is a lawyer at Fasken Martineau DuMoulin LLP where he advises clients on a wide range of regulatory and administrative law issues, particularly anti-bribery and corruption, public sector conflicts of interest, campaign and election finance, lobbying law compliance, and procurement integrity. Kai holds a BCL and LL.B from McGill University's Faculty of Law. Prior to practicing law, Kai worked at an industry association, a government relations firm and was an aide to a Canadian Senator.
Kai is eager to use his skills to advance the important work that Brain Injury Canada does for those who have suffered brain injuries, their families and caregivers.
In his spare time, Kai enjoys watching documentaries on almost any subject, trekking across the city with a good coffee in hand and keeping up with world affairs / business. He is also a die-hard U.S. college football fan.
Paul Rogers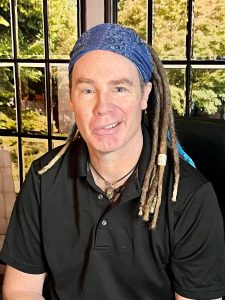 Paul Rogers brings a combination of different strengths from his original career starting as a successful commercial lawyer in the UK, transitioning to a kite surfing instructor, to working as a teacher on a Cree First Nations Reserve in Northern Quebec.
Paul also brings unique first hand knowledge and experience of living with a severe TBI and PTSD. His family was involved in a devastating motor accident with a train on the 19th March 2018. Paul's wife also sustained a severe TBI, but their 2 year old was miraculously uninjured. Their husky is the only member of the family who didn't make it.
Since the accident, Paul has dedicated himself to raising awareness and advocating for TBI and invisible injuries through his upbeat and amusing English humour by doing public speaking and podcasts, as a best selling amazon author, columnist for Aware Now and Ambassador for Awareness Ties for TBI and PTSD. Paul believes that you can change the world one story at a time.
Paul regards joining Brain Injury Canada as a great privilege to be able continue to help others and work with like minded people across Canada to break down stigmas, raise understanding and create a supportive inclusive landscape.
Annette Simms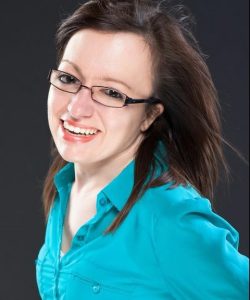 As an Accessibility Counsellor at Mohawk College, Annette brings a strong skillset around advocacy, education and accommodation to Brain Injury Canada. Motivated by her own lived experience of brain injury, Annette completed her Bachelor of Science in Psychology at Carleton University and Masters of Applied Disability Studies at Brock University, with the ultimate goal of helping others. Following roles ranging from direct support to administration in non-profit, charity, government, health care and post-secondary settings, Annette continues to make a difference in the brain injury world through both volunteer and teaching ventures.
As a volunteer since 2015, Annette continues to support the Neurosurgery Department at the Hospital for Sick Children through live workshops on neurosurgical transition from the paediatric to adult health care system.
She also brought her knowledge of transition and accommodation to her previous faculty role, where she supported students across the spectrum of disability, applying the Universal Design for Learning in her teachings with a multi-sensory approach to the delivery of content. With passions centred around disability identity, mental health, and navigation of the Social/Medical Model of disability, Annette is excited to join Brain Injury Canada in their Vision for a better quality of life for all people affected by acquired brain injury in Canada.