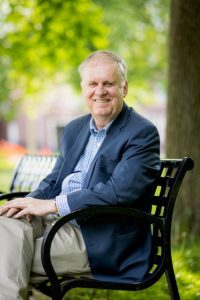 Brain Injury Canada would like to extend our sincere appreciation and an enthusiastic thank you to Dan Andreae, our honourary patron, for his generosity in supporting the BRain Injury and TEens (BRITE) platform. He is matching donations up to a total of $15,000 during our fundraising campaign, enabling us to build this resource for youth in Canada.
A message from Dan Andreae on BRITE
"I am proud and excited to be supporting a vital and innovative initiative that will help teenagers cope more effectively with the effects of brain injuries on all levels.  With this first in Canada program Brain Injury Canada will provide crucial information and resources to  teenagers in communities across the country."
About Dr. Dan Andreae
Dan Andreae is an award winning professor, executive director, community leader  and advocate, volunteer and citizen. Most recently he was selected as Philanthropist of the Decade for 2022 by the International Association of Top Professionals (IAOTP).While inclusion with the International Association of Top Professionals is an honor in itself, only one member who is a dedicated Philanthropist is selected for this distinction. Dr. Andreae is being recognized for having over two decades of professional experience as an educator.
Born in Canada, Dr. Andreae holds a Doctorate of Education from the University of Toronto. His Masters in Clinical Social Work was earned at Wilfrid Laurier University. Prior to attending Wilfrid Laurier University, Dr. Andreae earned his Bachelor's Degree in Psychology from York University in Toronto. He was awarded an Honorary Doctorate of Laws from Assumption University in Windsor, Ontario. As a result of studying with the Benson Henry Mind Body Institute in Boston, affiliated with Massachusetts General Hospital, Dr. Andreae was granted membership in the Harvard Medical School Postgraduate Association and is a certified Health Coach and a Founding Member of the Institute of Coaching affiliated with Massachusetts General Hospital and Harvard University.
As a dynamic, results-driven leader, Dr. Andreae has demonstrated success not only in academia but has also been an outstanding community advocate and true visionary of his time. He believes that "Education is not just an intellectual exercise; it is most effective when the head meets the heart and knowledge can be applied to enhance the quality of one's life on all levels; educational, physical, spiritual and social."
His outstanding leadership and commitment to his research has led him to teach over forty-five different subject courses at the college and university level. His focus has been related to psychology, but Dr. Andreae's approach has been to heal a person as a whole. Dr. Andreae's involvement in neurodegenerative causes has made him also realize that education and research around the brain is crucial and has led to the management of conditions and enhanced quality of life. This applies to a wide range of issues from Alzheimer'sautism, and other traumatic brain injuries. Dr. Andreae is currently interested in the relationship between stress, brain health and resiliency. Dr. Andreae is a strong proponent of Life Long Learning recognizing as things are changing in our fast paced world, continuous learning is no longer a luxury but a necessity.
Throughout his remarkable career, Dr. Andreae has received numerous awards and accolades for his outstanding leadership and commitment to Psychology and Higher Education. He has been recognized worldwide and he remains active in his community. IAOTP has awarded Dr. Andreae as Top Professor of the Year in Higher Education, he received the Professor of the Decade Award and was given the prestigious Lifetime Achievement Award. He was named Man of the Year and was awarded as the Male Visionary of the Year. In 2020 Dr. Andreae was chosen as Humanitarian of the Year and earned the International Hero Award for Higher Education. He was interviewed on TIP International Radio and was featured on two billboards in NYC on the famous Reuters Building. Dr. Andreae graced the front cover of TIP (Top Industry Professionals) Magazine and TIP Magazine released a special edition dedicated solely to Dr. Andreae.
Dr. Andreae has been selected as Intellectual of the Year for 2020 by the Top 100 Registry and was featured in the Wall Street Journal by Marquis Who's Who. In 2019 he received the Outstanding Leadership and Volunteer of the Year Award from the Weizmann Institute of Science, one of the world's most esteemed research and educational institutes. Dr. Andreae also received the Lifetime Leadership Award from the National Eating Disorder Center at Toronto General Hospital for his support and guidance and Laurentian University in Sudbury, Ontario recently presented him with its inaugural Impact Award for community leadership and vision. For 2017, he was featured on the cover of Marquis Who's Who in the World first magazine edition. In 2016 he graced the front cover of Elite Magazine and was the 2015 recipient of Oxford Who's Who Tier of Excellence Award, Lifetime Accomplishment Recipient, and Covington Who's Who Professional of the Year. In 2011 he was named Faculty and Staff Mentor of the Year and Faculty of Psychology of the Year. Recipient of the Distinguished Teaching Award at the University of Waterloo, and two-time recipient as Faculty of the Year at the University of Guelph Humber. In 2010, Dr. Andreae received the prestigious Ontario Medal of Good Citizenship presented by the Lieutenant Governor for his work as a transformational leader in the social work profession. In 2008 he received the Lyall Hallman Social Work Award. In 2007 received an Honorary Doctorate of Laws from Assumption University for contributions to health care and in 2019 he received an Honorary Degree from the Humber Institute of Advanced Technology. In 2006 he was named Canadian Social Worker of the Year and recipient of the Alzheimer Champion of Change Award by Princess Yasmin Khan, President of the International Alzheimer Society. He received the Lifetime Achievement Award by the Ontario Association of Social Workers. He also received the Outstanding Service Award for Leadership by the Alzheimer Society of Toronto and Inaugural June Callwood Outstanding Volunteer Award Presented by the Premier; Queen Elizabeth Diamond Jubilee Medal and Canada 125 Medal. In 2001 he was named Laurier's Alumnus of the Year, was chosen as one of the Top 100 Alumni of the University presented during it's centennial year, The Brain Injury Association of Canada Lifetime Achievement Award, and Ontario Social Worker of the Year for 1999.
Dr. Andreae's community involvement includes being the first Executive Director of the Alzheimer Society of Toronto, and Chair of the Patrons Council of the Society. In addition, he has been the longest serving President of the social work profession in Ontario, former Vice President of the Psychology Foundation of Canada and is the current Health Advisor and Special Advisor to Weizmann Canada. He is a member of the Board of Governors of the Michener Institute, under part of the University Health Network, member of the Ontario Association of Social Workers; Alzheimer Society of Metropolitan Toronto and has built province-wide coalitions and worked closely with elected officials and senior civil servants to lead a 10-year campaign to establish social work as a regulated profession in Ontario. This successful campaign culminated with legislation that protects and benefits Ontarians led to the creation of a College of Social Work to regulate the profession. Dr. Andreae has also supported what are called "town to gown" public lectures at Laurentian University in Sudbury, Ontario. He is also sponsoring a pioneering lecture series. These are free and open to the public where interesting experts are invited to give a lecture and answer audience questions, called the Dr. Dan Andreae Presidential Lecture for Living in Healthy Communities. Speakers over the years have included Dr. James Orbinski, who on behalf of Doctors Without Borders, accepted the Nobel Prize, Dr. Norman Doidge who has written bestselling books on the brain and brain plasticity, Olympic winners in skiing and skating and Stephen Page, singer for the group Bare Naked Ladies on mental health issues are also in attendance.
Looking forward Dr. Andreae would like to continue to motivate students to learn and to do more public education in the community. Looking back, Dr. Andreae attributes his success to his pursuit of knowledge, utilizing his experiences, his passion for his research and to helping people. When he is not working Dr. Andreae enjoys, investigating health issues, current events, travel, baseball, visiting stadiums when in a new city, hockey and collecting signatures of notable people in science, music, history, television and sports. For the future, Dr. Andreae will continue to grow as a professional and make a difference in people's lives anyway that he can. Dr. Andreae is a valued mentor to several organizations and has been the recipient himself of wonderful mentoring and singles out one key wise, kind and talented individual in Toronto, Dr. Eva Philipp. He says that no person is an island, and we all need support and to learn from others.
For more information on Dr. Daniel Andreae please visit: www.iaotp.com
To view his most recent award please visit: https://youtu.be/gdEi7OXBY68