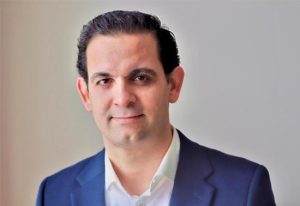 Our Scientific Advisory Committee is comprised of professionals in the research and medical practice sectors that work to support the brain injury community. One such individual is Dr. Amine Choukou.
Dr. Choukou's research focuses on delivering telerehabilitation services to people with chronic stroke, Parkinson's disease, and multiple sclerosis who live in the community. Innovative technology fills in many gaps in the current practice and promises a better access to care for all, regardless of their geographic location. Receiving rehabilitation care at home is at the utmost of the needs of people living in rural and remote communities who want their physical or cognitive skills recovered or improved. Ultimately, these technologies are intended to help these individuals live independently with dignity.
"I dedicate a considerable portion of my research career to brain injury because I see people leave institutions without their needs being met, and I believe that home telerehabilitation is a smart approach to bridge that gap, while promoting autonomy and independence."
Dr. Choukou's efforts in telerehabilitation is demonstrated in an on-going project that is as of May 2022 in the test phase.
Active at Home Post-Stroke Program (Home PSP) is designed to provide stroke survivors with comprehensive physical and cognitive rehabilitation. The program provides semi-supervised at-home telerehabilitation to patients living in rural, remote and underserved areas who could not access rehabilitation services otherwise. The importance of remote health technology has become even more clear in light of recent COVID-19 restrictions; telerehabilitation has never been more relevant.
Home PSP delivers telerehabilitation via three easy-to-use technologies shipped to the patient's home:
A mobile app
A virtual reality (VR) system
iManus
The interactive mobile app provides guided physical rehabilitation through an Android tablet. A virtual coach delivers an exercise program that includes resistance training, balance training, and stretching.
A simulated VR environment provides physical and cognitive training activities for patients to complete. With VR training, the patient benefits from continuous and safe practice, at their own pace and in the comfort of their home. The patient begins by performing simple domestic activities, and advances up to unexpected and complex situations.
iManus (www.theimanus.ca) is a patented technology developed under a partnership between the University of Manitoba and Tactile Robotics Ltd. iManus consists of a pair of sensorized gloves and therapeutic equipment for manual dexterity training. A mobile app interface collects data from the gloves and connects the patient to a therapist.
The goal of Home PSP is to help patients regain their physical and cognitive abilities following a stroke. The activities resemble scenarios we encounter during daily life, and the therapeutic content has been validated by therapists. The needs of stroke survivors vary widely, and Home PSP is designed with this variety in mind. A therapist offers personalized guidance at a distance based on data collected with the different technologies that make Home PSP. The program is underway in Manitoba, and contents can be adapted for patients with traumatic brain and spinal cord injuries.
For some, at-home telerehabilitation allows them to receive structured therapy that they would not otherwise be able to receive. Many people will benefit from this program, which reduces family burden by limiting travel and indirect care costs.